Basildon Home Page
View all our services
A guide to your area, enter your postcode for: refuse and recycling collection dates; your councillors; your polling station; schools, health and play areas.
---

Garden waste subscription service now live
Sign up now! The new weekly garden waste subscription service is now live.
www.basildon.gov.uk/gardenwaste
The new service will be discounted for the first year, at £25 for one garden bin collection subscription and £15 per additional bin (37 collections).
The new garden waste subscription service will begin on Monday 5 June. From this date, if you have not subscribed to the service, you will no longer receive a garden waste collection.
If you have already subscribed to the service, you do not need to take any further action. However, you may continue to receive promotional material about this service.
For full details, and to sign up, visit our website - www.basildon.gov.uk/gardenwaste
---

Are you ok? Find support with the cost of living
If you are struggling with money, energy debt or the cost of essential services, you are not alone. It's important to know that support is available. We are here to help.
Visit our dedicated support hub: Are you ok? Support with the cost of living
---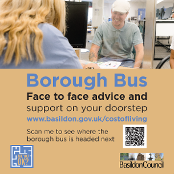 The Borough Bus will begin touring from Tuesday 4 April to provide drop-in council services and additional support in local communities. The bus will be available every two weeks, at a range of venues across the borough.
Manage your Council Tax and Benefits account 24/7 from your secure online account.
Check your details and balance, report a change in circumstances, apply for a reduction or refund, and more.