The Place To Work Out - The Pulse Fitness Suite at The Place, Pitsea
Centrally located, open 7 days a week and with free parking, our fully equipped gym has everything you need to get fit and improve your health and for a fraction of the cost you could pay elsewhere.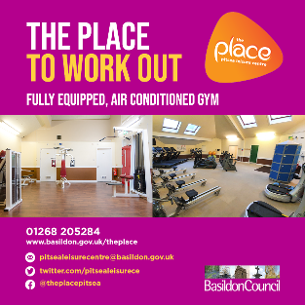 NO CONTRACT
NO JOINING FEE
AFFORDABLE MONTHLY MEMBERSHIPS
PAY AS YOU GO OPTIONS
SAVE MONEY WITH DIRECT DEBIT
Our air conditioned Pulse Fitness Suite has a range of easy to use exercise machines, hand weights and fitness equipment meaning you can work at a level to suit you. We'll even write you a personalised fitness plan to make sure that you get the most out of your fitness sessions. Whether you want to lose weight, tone up or simply improve your fitness levels we'll be there to support you.
The Pulse Fitness Suite is a friendly and informal gym which provides all ages and fitness levels with a comfortable place to work out. It's a relaxed non-intimidating environment that encourages the positive motivation everyone needs to achieve their fitness goals.
As part of your gym induction, our qualified fitness instructors will show you how to use all of the equipment safely and effectively so, even if you've never used a gym or fitness suite before, we will be on hand to guide you through and build your confidence.
To find out about Pulse membership, see Pulse Fitness Membership Deals.
The Pulse Fitness Suite
Fully air conditioned.
Open 7 days a week.
Free parking nearby.
Suitable for age 16 and above and all fitness levels.
Full Gym induction class on all equipment for newcomers.
A personalised fitness-plan designed to meet your own needs.
Regular fitness reviews available to stay on track.
A range of easy to use hi-tech cardio-vascular exercise machines.
Tone muscles with Power Plate - the latest in vibration plate training and exercise.
Equipped with a range of weight resistance machines.
Showers and changing rooms at no extra charge.
Gym opening times
Monday-Thursday: 9.00am - 9.45pm
Friday: 9.00am - 6.00pm
Saturday: 9.00am - 5.00pm
Sunday: 9.00am - 4.00pm
Closed on bank holidays.
JOIN US TODAY! - Every journey begins with a single step. 3 months from now you will thank yourself!