Basildon Borough Volunteer Awards 2020
Volunteer Awards Ceremony postponed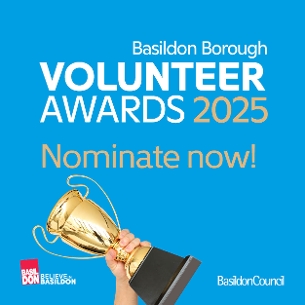 We would like to give a big thank you to everyone who submitted their nomination for the Basildon Borough Volunteers Awards 2020.
Due to COVID-19 - Volunteer Awards Ceremony postponed until later on this year
At the present time it is expected that everyone nominated for a Volunteer Award, and their special guests, will be invited to a prestigious Volunteer Awards Ceremony to be held later on this year. The exact date and arrangements will depend upon the situation in relation to the COVID-19 outbreak. Winners in each category will be presented with a trophy, a certificate of appreciation and a prize voucher by the Mayor of Basildon and the award category sponsors.
Basildon Borough Volunteer Award categories 2020
The Young Volunteer of the Year Award (11-21yrs or up to 25 years if additional needs)
Community Star (21 years old and above)
Inspirational Role Model Award
Fundraising Champion
Long Service Award
Voluntary Group/Project of the Year Award
Lifetime Achievement Award
For a full description of each of the above award categories please see the Basildon Borough Volunteer Award Nomination Form below.
Tony Guyon 'Volunteer of the Year' Memorial Cup
The winners in the above award categories will be put forward to win the prestigious Tony Guyon 'Volunteer of the Year' Memorial Cup. Tony Guyon was a popular and committed member of Basildon Council's Community Engagement Team who sadly passed away in 2010. Tony loved to spend his spare time volunteering in his local community and he played his part in helping to make Basildon a better borough. This special award embodies Tony Guyon's dedication towards volunteering.
Further information and enquiries
For further information regarding the Volunteer Awards 2020, see contact details bottom of this page or...