Small changes, big impact
Save money and help the environment with these tips and tricks, plus local organisations providing greener services.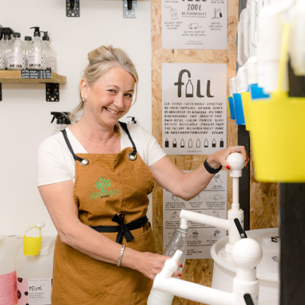 Here is a list of services and support that you may find useful.
Basildon Council
Small changes, big impact
Switching to greener alternatives may save you money this winter
Make a meal plan - Planning your meals for the week ahead is a great way to save money and reduce food waste. Go to the shops with a clear list of what you need and try not to be tempted by special offers or items you don't really need.
Batch cooking - Portion and freeze meals in advance by scaling up quantities. This means you will have something ready when you need it and cooking in larger quantities can often work out cheaper too.
Switch from the oven - Slow cookers, microwaves and even air fryers use significantly less energy than a traditional electric oven - up to 90% less in the case of slow cookers. Plan your meals in advance to use the oven less often and cut down on energy costs.
Leave the car at home - For shorter journeys, consider walking or cycling instead. Active travel will save you money on fuel and it's great for your health. Apps like Street Tag will help you keep track of your activity and even earn you rewards such as shopping vouchers and sports equipment. www.basildon.gov.uk/streettag
Insulate your home - There are some simple changes you can make to help insulate your home and reduce the amount you spend on heating and lighting this winter.

Draught proofing
Radiator panels
LED light bulbs
Water saving shower heads
Double or triple glazing
Solar panels
Hot water systems and lighting
You may be eligible for grant funding to support with some of these home improvements. Find out more about the Sustainable Warmth Scheme online - www.essex.gov.uk/cut-energy-costs

Refill and reuse - Refill stores sell food, toiletries and household supplies by refilling containers you bring into the shop. You pay by weight which often means products are cheaper, as well as reducing waste by cutting down on single use plastic and only buying what you need.
Nic-ECO Billericay | 07758 891 687 | www.nic-eco.co.uk
The Sustainability Store, Summerhill Garden Centre | 07866 792 244 | www.thesustainabilitystore.co.uk
Too good to go - Discounted food from local retailers which would otherwise be going to waste at the end of each day. You can download the app on Android or Apple.
---